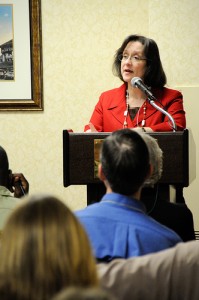 Lynne Griffin is available to speak to your organization about a myriad of family life, relationship and parenting topics. She can provide individualized workshops & trainings, keynote addresses, breakout sessions, case presentations, grand rounds, & staff meetings, or visit your civic group. Email information about your program needs to PR at LynneGriffin dot com.
Lynne's programs are designed for your target audience. Introductory programs are delivered in one, two or three hours. The more comprehensive programs run in half day, full day, or in series formats. Each presentation is customized to meet the needs of your organization.
All fees are negotiated, based on the kind of program you desire, length of time, and other program considerations. Travel fees include air and ground transportation, daily per diem fee, and hotel as appropriate.
Popular Parent Programs
Negotiation Generation: Take back your parental authority without punishment
Collision Course: Why parents and children argue and how you can turn the tide
Winning Power Struggles
Bridging the Gap: Talking to Kids about Tough Subjects
Predict, Prepare, & Partner: Strengthening the parent/teacher partnership
Popular Professional Programs
Proactive Teaching: An approach to behavior management that leaves no child behind
Temperament in the classroom: Working toward it not against it
Organizing and Leading Interactive Parent Groups
Arranging a Program
For more information about how Lynne can meet your program needs call: 781-545-6585.
A partial list of clients
Kingsley Montessori School, Boston MA
University of Hartford Magnet School, Hartford CT
Harvard University, Cambridge MA
Stonehill College, Easton MA
Association of Writing Programs Annual Conference [Los Angeles, Boston]
Massachusetts Children's Trust Fund
Massachusetts Department of Education
The Steward School, Richmond VA
Saint Anselm College, NH
National Association for the Education of Young Children (NAEYC)
Maternal and Child Health Bureau, Washington DC
Parent Encouragement Programs, Washington DC
Massachusetts Department of Public Health
Children's Hospital Boston
National Institute for Healthcare Management, Washington DC
Connecticut Children's Medical Center
Saint Joseph Hospital Nashua, NH