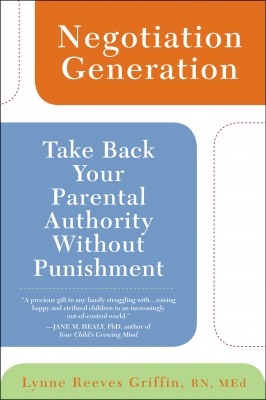 A NONFICTION PARENTING GUIDE
"Griffin challenges parents to assert their authority differently. This book, rich in anecdotes, will make a great addition to any parenting collection." —Library Journal
Whether You're Raising Toddlers or Teenagers—Some Behaviors Are Non-Negotiable
Once upon a time, parents were parents and children were children. Today, our fast paced lives and changes in the popular culture have children claiming more independence than they can handle. Parents are losing their authority, negotiating with their children about everything from what to wear to school to when to go to bed at night. All this negotiating is exhausting and it doesn't teach children how to handle the intense pressure to grow up too quickly.
Lynne Reeves Griffin RN, MEd helps you reclaim your position of authority with a proactive approach to raising your children. By establishing clear boundaries for what is and isn't acceptable behavior, you'll win the tug-of-war with your children—and forge a stronger, more loving bond because of it.
Influence your children's behavior—without controlling it
Predict and prevent challenging behavior
Let go of time-outs, groundings, spankings, and other punishments
Teach by example—show and tell your children how you expect them to behave
With true stories from more than twenty years of parent counseling, the author reveals the real struggles parents face in raising today's children—and tells you how to step out of the negotiation generation and step back into control.
Read an excerpt from Negotiation Generation
Order Your Copy Today
Details
Category: Nonfiction – Parenting
Format: Trade Paperback, 272 pages
ISBN: 9780425217016
Foreign Editions
Negotiation Generation is in its seventh printing. Chinese rights to the book have sold, with publication in fall 2008. To discuss foreign rights, contact Lynne at [info [at] LynneGriffin [dot] com.