Writing Coaching & Editorial Support
Advice For Writing Your Life
DEVELOPMENTAL EDITING | WRITING COACHING | SENSITIVITY READS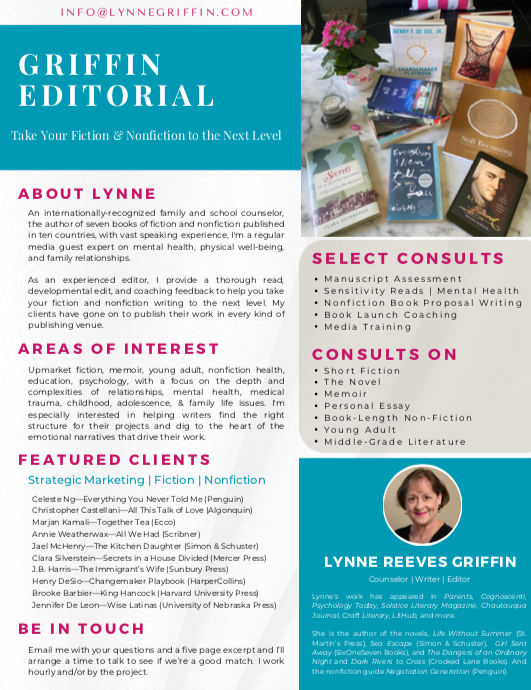 FICTION & NONFICTION MANUSCRIPT CONSULTATION | NONFICTION BOOK PROPOSALS | SENSITIVITY READS RELATED TO MENTAL HEALTH
Lynne provides a thorough read, developmental edit, and coaching feedback to help you take your fiction and nonfiction writing to the next level. She is available to help you develop or write your nonfiction book proposal.
As a nurse and counselor, Lynne is also able to provide writers and publishers with comprehensive sensitivity reads related to mental and physical health, trauma, and family relationships. Her feedback includes identifying tropes, harmful word choices, clichés, inauthentic plot points, and depictions that promote stigmas related to mental and physical illness vs. challenge them.
Her clients have gone on to publish their work in all kinds of venues and outlets.
CONSULTS ON
Short Fiction, The Novel, Memoir, Personal Essay, Book-Length Non-Fiction, Young Adult & Middle-Grade Children's Literature
AREAS OF INTEREST
Upmarket fiction, memoir, young adult, nonfiction health, education, psychology, with a focus on the depth and complexities of relationships, mental health, medical trauma, childhood, adolescence, family. I'm especially interested in helping writers find the right structure for their projects and dig to the heart of the emotional narratives that drive their work.
FEATURED CLIENTS
Strategic Marketing:
Celeste Ng—Everything You Never Told Me (Penguin)
Christopher Castellani—All This Talk of Love (Algonquin)
Annie Weatherwax—All We Had (Scribner)
Fiction:
Jael McHenry—The Kitchen Daughter (Simon & Schuster)
Clara Silverstein—Secrets in a House Divided (Mercer University Press)
Nonfiction:
Henry DeSio—Changemaker Playbook (HarperCollins)
Elinor Svenson & Betsy Banks Epstein—Still Becoming: Conversations with People in their Sixties (Right Coast Press)
Jennifer De Leon—Wise Latinas: Writers on Higher Education (University of Nebraska Press)
ML Nichols—The Parent Backpack (Ten Speed Press)
Katie Naftzger—Parenting in the Eye of the Storm: The Adoptive Parent's Guide to the Teen Years (Kingsley Publishers)
TO BOOK A MANUSCRIPT CONSULTATION BE IN TOUCH
For more information about how Lynne can meet your needs, email her at Info [at] LynneGriffin [dot] com or call: 781-545-6585.
*
WRITING CLASSES
Lynne Griffin teaches fiction and nonfiction writing. She is available to speak at your library, literary festival, and/or at your writing group. Her programs are designed for your target audience. Introductory programs are delivered in one, two, or three hours. The more comprehensive programs run in half day, full day, or in series formats. Each presentation is customized to meet the needs of your organization.
All fees are negotiated, based on the kind of program you desire, length of time, and other program considerations. Travel fees include air and ground transportation, daily per diem fee, and hotel as appropriate.
POPULAR WRITING PROGRAMS
– Crafting your novel: start to finish
– Drafting your nonfiction book proposal
– Paths to publication
– Querying agents and editors
– Strategic marketing of your book
– Finding and working with a writers' group
– Creating authentic characters
– Solving novel problems
– The cure for revision resistance
FREELANCE WRITING | CONTENT MARKETING
Lynne Griffin RN, MEd is a content expert on health, education, parenting, and mental health. She's been interviewed as an expert for numerous national and regional television and radio outlets and for print publications such as, Parents, Salon, Redbook, Good Housekeeping, Parenting, Seattle Times, and Family Circle, to name a few. Lynne has written front of book pieces for Parents and Parenting, and has written features and essays for Scholastic Parent & Child, Library Journal, Writer Magazine, Kid's Growth, Babble, Psychology Today, Brain, Child, and Lit Chat.
Select Clips:
As the expert—
As the writer—
Books Lynne co-wrote—
Transition Planning for Adolescents with Special Health Care Needs and Disabilities

 

[Stephanie Porter, Linda Freeman, Lynne Griffin]
The Truth about Family Life [Renee Despres, William Kane, Lynne Griffin]
Children and Youth Assisted by Medical Technology in Educational Settings [with Stephanie Porter]
Bright Futures: Guidelines for Health Supervision of Infants, Children, and Adolescents

 

[American Academy of Pediatrics, Maternal Child Health Bureau, Georgetown University]
For over twenty years Lynne has worked with Brigham and Women's Hospital, Massachusetts General Hospital, and Children's Hospital, Boston writing patient education materials in the form of newsletters, website content, and book-length works.
To work with Lynne, email her at Info [at] LynneGriffin [dot] com or call: 781-545-6585.