AVAILABLE NOW!
A novel of domestic suspense from Lynne Reeves
THE DANGERS OF AN ORDINARY NIGHT
A Novel
This twisty and affecting thriller combines a meticulously constructed crime story with a devastating domestic drama about the blind spots in our most precious relationships. With this novel, I wanted to explore the impact of addiction and betrayal on marriage. As a counselor working with families, I see the ripple effects of addiction on partners and children. I wanted to explore this reality through a fictional lens in hopes that the characters' struggles will resonate with what readers may be going through in their own lives.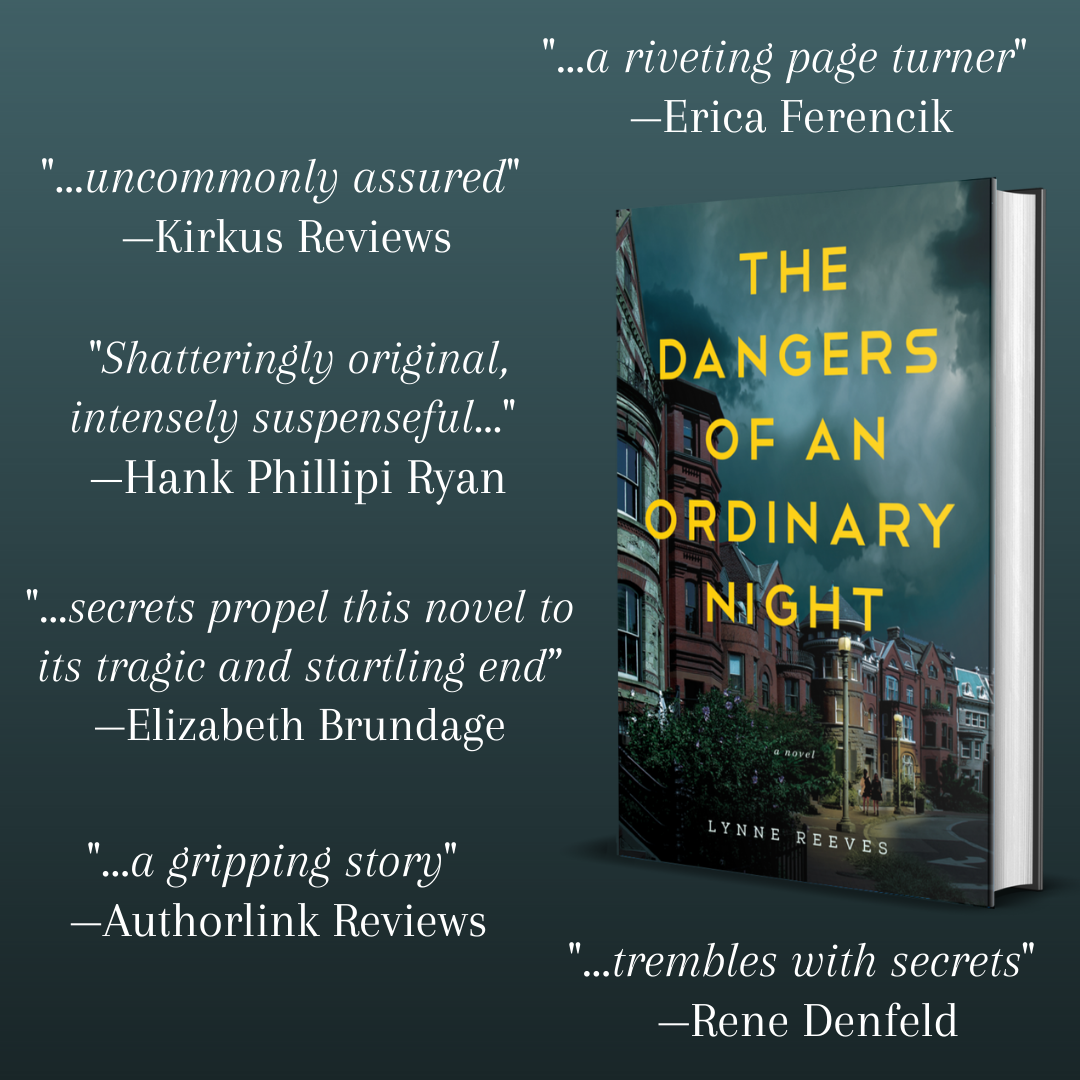 "...a sensitive examination of a dysfunctional family and a full-of-secrets community that claims to be seeking the truth."
—The New York Times
"Shatteringly original, intensely suspenseful, and written with a tender eloquence that will break your heart. The talented Lynne Reeves—a master of subtext—weaves her brilliant insight into a riveting story of best intentions, unintended consequences, and devastated families."
—Hank Phillippi Ryan, USA Today Bestselling author of Her Perfect Life
"Both tender and tense, this novel trembles with the secrets lying under its many perfect facades. Lynne Reeves writes a thriller like no other: informed, nuanced, and forever keeping you at the edge of your seat. Grab this one!"
—Rene Denfeld, bestselling author of The Child Finder
"The Dangers of an Ordinary Night is a riveting page turner that explores the many masks we wear. It's a mystery, a marriage story—a great read on many levels. You won't put it down."
—Erica Ferencik, author of The River at Night
"In her suspenseful new novel, The Dangers of an Ordinary Night, Lynne Reeves brilliantly demonstrates that, in the theater of life, it is so often the people we're closest to who are the most convincing actors of all. Lies, deception, a marriage in disarray, and the ruinous consequences of long kept secrets propel this novel to its tragic and startling end."
—Elizabeth Brundage, Wall Street Journal bestselling author of The Vanishing Point
"In The Dangers of an Ordinary Night, Lynne Reeves pulls at your heartstrings, and she leaves you at the edge of your seat, turning the pages. In this thriller that explores the dark underpinnings of family, Reeves captures the nuance and fear we feel as we look deeply at the ones we let into our lives."
—Elizabeth L. Silver, author of The Execution of Noa P. Singleton
"As the suspects add up, the suspense and mystery escalate until the unexpected and shocking conclusion, making this a true nail-biter."
—New York Journal of Books
…an extraordinary mystery. If Agatha Christie had lived in Boston, she would've written a mystery similar to this one.
—Gumshoe Review
…a three-act tragedy that peers beneath every parent's worst nightmare…with chapter titles drawn from twenty-seven plays…Reeves' uncommonly assured novel, by turns sensitive and scarifying, identifies an elusive target and hits it dead on.
—Kirkus Reviews
Lynne Reeves writes from the heart. Her experience as a renowned counselor informs her writing to create a gripping story of the consequences of family secrets.
—Authorlink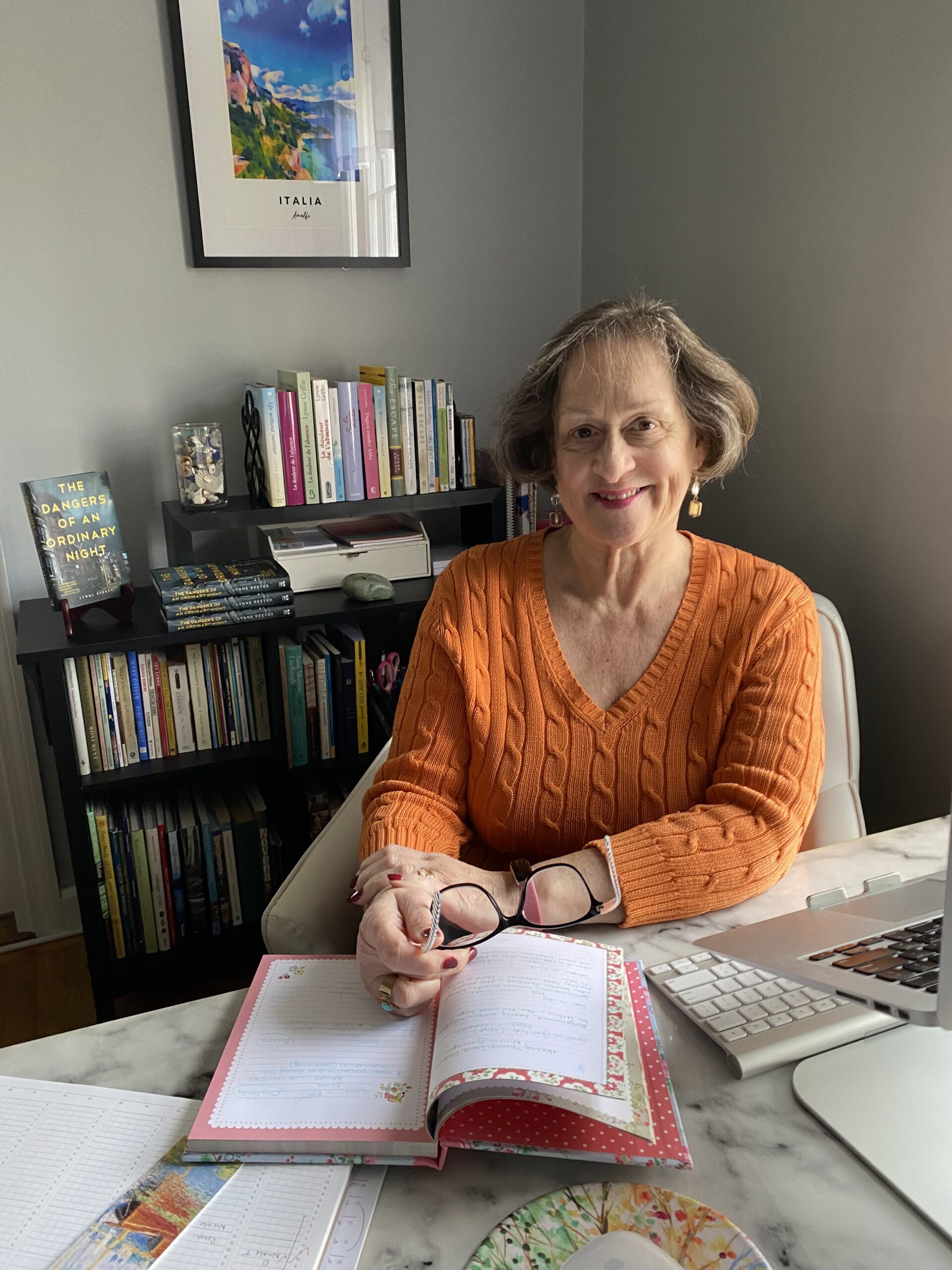 NOVELIST & FAMILY COUNSELOR
LYNNE REEVES GRIFFIN
Lynne Reeves Griffin is an internationally recognized family counselor, public speaker, teacher and writer of fiction and non-fiction. Her work has appeared in Parents, Psychology Today, Solstice Literary Magazine, Chautauqua Journal, Craft Literary, Fiction Writers Review, Brain, Child and more.
Lynne regularly appears as a media guest expert to discuss contemporary family life and preventive mental health. Check out her appearances on WBUR's Morning Edition and WCVB's Chronicle.
Writing as Lynne Griffin, she is the author of the family-focused novels, Life Without Summer (St. Martin's Press), Sea Escape (Simon & Schuster), and Girl Sent Away (SixOneSeven Books).
She writes novels of domestic suspense as Lynne Reeves, with The Dangers of an Ordinary Night to be published by Crooked Lane Books in November 2021.
ADVICE FOR WRITING YOUR LIFE
EDITING | WRITING COACHING SERVICES
Lynne provides coaching on fiction and nonfiction book projects. She can also assess and provide a thorough manuscript read, developmental edit, and coaching feedback to help you take your fiction and nonfiction writing to the next level. Her clients have gone on to publish their work in all kinds of publishing venues.
ADVICE FOR LIVING YOUR LIFE
PARENT | PROFESSIONAL SERVICES
Lynne Reeves Griffin RN, MEd has over thirty years experience as a registered nurse, school & family counselor, and differentiated-learning specialist. She is available for individual parent coaching, education consultation, as well as for parent and professional development programs.
VIRTUAL EVENT | Barbara's Bookstore • Chicago, IL
Lynne will be in conversation with Sylvie Perry, author of The Hawthorne School about her new novel The Dangers of an Ordinary Night. Event is virtual and begins at 7 pm EST.
VIRTUAL EVENT • Concord Public Library • Concord, MA
Lynne will be in conversation with writer Lara Wilson about her new novel The Dangers of an Ordinary Night.