A NOVEL & COMPANION GUIDE FOR PARENTS & TEACHERS


Toby Sedgwick is terrified by his daughter's increasingly reckless behavior and takes a tough love approach, enrolling Ava in Mount Hope, a wilderness behavioral camp for troubled teens.  Ava quickly realizes that the camp is little more than a prison, warehousing and abusing kids for their parents' money. And after spending a disturbing weekend completing the parent portion of treatment, Toby knows it too.
As Ava desperately searches for a way out of Mount Hope, she is faced with resurfacing memories of a family tragedy – she can no longer suppress the pain of what happened to her mother and sister eight years earlier in Thailand. As father and daughter fight to get back to each other, the truth may irrevocably tear them apart.
PRAISE FOR GIRL SENT AWAY
In Lynne Griffin's new novel, Girl Sent Away, she takes on a topic that's rarely discussed but which richly deserves our attention: the fear-based teenage boot camps that serve as a dark undercurrent to our domestic culture. In this book, Griffin explores that somber, frightening world, through the twinned journeys of a troubled teenage girl and her grieving father. This is a terrific and terrifying story, and one that should be told. Brava to Griffin for having the courage to do so. –Roxana Robinson, author of Cost and Sparta
Girl Sent Away is a harrowing tale of family and adolescence–of the things parents do to keep their children whole and the terrible mistakes they make along the way. With swift, clean prose, Lynne Griffin delves into the dark world of adolescent bootcamps, exposing a culture that damages those who are the most vulnerable. –Ivy Pochoda, author of Visitation Street
This compelling novel takes us inside the lives of a girl and her father who fall prey to a horrific reality: a system of institutions that claims to treat trauma, but actually creates more of it. A must-read, especially for anyone whose life is touched by troubled teens. –Maia Szalavitz, author of Help at Any Cost: How the Troubled Teen Industry Cons Parents and Hurts Kids
Girl Sent Away is an emotional page turner that explores the ways in which grief can tear families apart and love can triumph. –Ann Hood, author of The Knitting Circle
Girl Sent Away is available now. The nonfiction companion guide for parents and teachers, Let's Talk About It: Adolescent Mental Health is also available. To invite Lynne to speak at your book club, school, or social services agency, about the novel and/or the companion guide, email events [at] lynnegriffin [.com].
LET'S TALK ABOUT IT: ADOLESCENT MENTAL HEALTH
A GUIDE FOR PARENTS & TEACHERS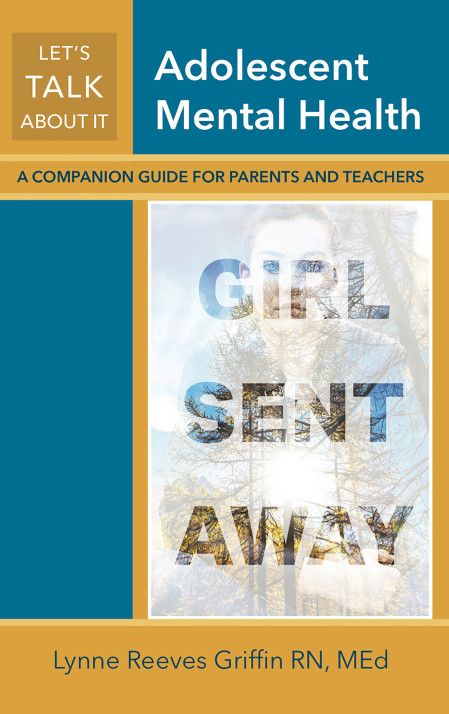 Decades of research show that when parents and teachers partner together around social-emotional learning, teens are better positioned to reach their greatest potential as healthy, active members of the community.
Let's Talk About It: Adolescent Mental Health
is a companion guide for reading the novel 
Girl Sent Away
that provides specific ways parents and teachers can engage teens in conversations about mental health with the goal of building empathy, nurturing perspective-taking, and strengthening emotional resilience.
The guide is designed for use with students in Grades 9-12, and the curriculum material and discussion questions are intended to complement literacy, media literacy, health, and social-emotional learning activities.
TESTIMONIALS:
Lynne Griffin delivers every time. She is able to create an experience for parents that is safe for any kind of question, and her advice is always developmentally appropriate and thought provoking. Lynne is a key leader for parents. –Nina Dickerman—Work/Life Liaison Harvard University
Lynne Griffin brings to bear wide and practical experience and deep knowledge on all issues having to do with children and families. Her ability to foster confidence in children and teens, parents and teachers in the critical learning journey of all is testimony to her understanding that all children are unique with their own special needs.  –David Fedo—Executive Director, Wheelock College Singapore
Lynne's passionate delivery of information builds bridges among children, faculty, and parents. Her encouraging attitude, positive inquiry and perceptiveness make her an asset to any school or parent community. –Renee DuChainey-Farkes—Head of School, Kingsley Montessori School
To learn more about Lynne's programs, email events [at] lynnegriffin dot com.