In my ongoing series, Conversations, I talk with interesting people who have something compelling to s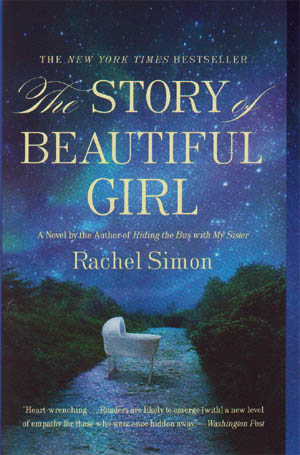 ay about family relationships. Today I'm chatting with Rachel Simon, bestselling author of The Story of Beautiful Girl and Riding The Bus with My Sister.
Lynne: I often talk about what a wonderful vehicle fiction is for teaching. I found The Story of Beautiful Girl to be a powerful narrative that does so much to educate readers about people with disabilities, what they want and hope for, how universal our dreams and desires are. How do you think novels in particular educate readers, as opposed to nonfiction?
Rachel: Two answers come immediately to mind. In fiction you don't have to come to a single way to respond to what's being written about, you may even experience ambiguity. Fiction can prompt a reader to rethink previous positions on the issues at hand, about characters; the reader may go deeper than they've gone before emotionally. Enlarging their perspectives. In fiction, writers aim to move our hearts.
The second real difference between fiction and nonfiction, is that in fiction a writer with a great toolbox, real skill, can write from multiple points of view. Allowing readers to see the world through many different people's eyes. With more than one story, many issues can be addressed, none of which have to lead the reader to any particular conclusion. Multiple points of view in a story, ask readers to imagine other lives. In this way, these stories are so powerful. I believe great novels of the past, even the bible, have stood the test of time for this reason.
Nonfiction on the other hand has only one perspective. And of course the danger of writing nonfiction, is writing with an agenda. It shouldn't be a writer's intent to write with specific messages in mind.
Lynne: You've written nonfiction memoirs. Most notably, Riding the Bus with My Sister. When do you choose to write a story from a nonfiction point of view or as fiction? When you get the germ or seed you know will become something, how do you know it will be fiction or nonfiction?
Rachel: For me there has always been a lot of considerations. When I was an event coordinator for Barnes and Noble, I saw fiction events not well attended. For nonfiction of all kinds, events were well-attended, we sold books. At that time, memoir was a big trend. It was the rise of the stories like Angela's Ashes, The Color of Water. I've always wanted my work to be read widely, and I thought perhaps I can try my hand at memoir.
Enter serendipity. I wrote a piece on my sister and her bus schedule for the Philadelphia Inquirer. My colleagues said, "This is a memoir." I wondered how would I structure it, and then with a lot of thought, hard work and support, I wrote Riding the Bus with My Sister. The book became a big deal, then movie, and led to speaking engagements about my experiences having a sister with disabilities.
For nonfiction, I have to have a strong need to say something more. It must be dramatic, and if others are writing about similar experiences, I'm forced to ask, "Why should I be the one to write it?"
Lynne: So you've written nonfiction about your experiences, and now a novel exploring similar themes. Do you consider yourself an expert on persons with disabilities?
Rachel: No. I'm only knowledgeable about my experience. Every day is a learning process. The older I get the more I listen. Both experiences—my writing in general—have invited people to share their stories with me. And each one reminds me what I know and what I don't know. I am increasingly curious. I try to live consciously with an open mind and heart—even though at times I don't.
My whole idea of society is informed by my sister. I believe we are here to help each other. From that you gain a strong sense of what social justice is. It's part of why I'm here. To do the right thing. To encourage others to do the right thing. To be a translator. I see myself as playing a key role in helping others to understand her, to help her to understand the world.
What I've learned that's so valuable is that so often our stories may at first may seem at odds with each other. The parent, the teacher. But in fact they aren't. There is something larger at play.
A skilled writer writes from the vantage point of a person's truth, about psychological understanding of themselves, who they love, or she invites others to go on a journey with fictional characters. Somehow this allows readers the opportunity to examine universal truths.
**
Rachel Simon is the award-winning author of six books and a nationally-recognized public speaker on issues related to diversity and disability. Her titles include the bestsellers, The Story of Beautiful Girl and Riding The Bus with My Sister. For more about Rachel, her books, and her speaking engagements visit her website.
**
Lynne Griffin is the author of the family novels Sea Escape and Life Without Summer and the parenting guide Negotiation Generation. You can find her online here: www.LynneGriffin.com, and atwww.twitter.com/Lynne_Griffin and at www.facebook.com/LynneGriffin.