My father walks me down the aisle. He does not look ahead to the altar, but rather stares adoringly at me. He whispers, "You will always be my girl."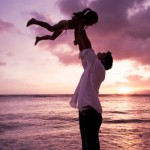 Daddy is the first to arrive at the hospital after the birth of my daughter. He holds the tiny child so close and for so long that when others visit they claim he is keeping her for himself.
Three years later, he is first to arrive after the birth of my son. This time he bears gifts. An impossibly small Red Sox jersey and baseball cap. There are promises of evening games at Fenway when my boy is old enough, and afternoons of playing catch in Grandpa's backyard.
All of these images are fantasy, little fictions I let my mind rest on when I miss him. My father died when I was fifteen, which means a treasure trove of experiences have never been mine, and never will be. This may explain why I'm drawn to novels about fathers and daughters. Simple stories of love and encouragement and conflict-rich stories fraught with the misunderstandings and missed opportunities that are germane to family life.
Well-suited to this category is Richard Russo's Empire Falls. Miles Roby is a down-on-his-luck dad living in the Maine town he grew up in, contending with his divorce, and trying to raise his beloved daughter Tick. From the town's priest, to the high school principal, to the waitresses at the Empire Grill, the characters that fill these pages are beyond memorable, and the plot twists and turns reminiscent of another of my favorite town-centric stories, Peyton Place by Grace Metalious.
A new novel that explores this special bond is The Orphans of Race Point by Patry Francis. Motherless Hallie Costa has an enviable relationship with her father Nick. In fact, this loving dynamic between father and daughter is juxtaposed against an ill-fated love affair set on the coast of Massachusetts, in the colorful Portuguese neighborhoods of Provincetown. Spanning thirty years, this page-turner explores what it means to be family and what it means to have faith.
Since compelling fiction rests on high degrees of tension–and not all relationship stories are cherished ones–I'd be remiss if I didn't include the novels that showcase a more tortured view of the father-daughter dynamic.
A Thousand Acres by Jane Smiley is such a story. This extraordinary novel, set on a farm in Iowa is loosely based on Shakespeare's King Lear and features three adult daughters coming to terms with a secret history of domestic abuse, generational gender roles, and the powerful forces of nature. Each time I reread this story, I find more subtle layers to reflect on, and always, writing that is both vivid and indelible.
Schroder by Amity Gaige first came to my attention via One Story, a literary magazine that published what would become an excerpt of this stunning novel that recounts the week a father spends on the run with his daughter after kidnapping her during a parental visit. Jennifer Egan says of the novel, "Amity Gaige explores the rich, murky realm where parental devotion edges into mania, and logically crabwalks into crime."
Next up father-daughter novels on my to-be-read shelf include: This Dark Road to Mercy by Wiley Cash and Claire of the Sea Light by Edwidge Danticat.
Are there father-daughter stories that have shaped or entertained you? Are you looking forward to reading books on this topic this summer? I'd love for you to add to this list in the comments.
Happy reading!
Lynne Griffin is an author, speaker and contributing editor to LitChat. Read her full bio here. Follow her on twitter @Lynne_Griffin or visit her website, LynneGriffin.com.
Editor's Note: Patry Francis will guest host #LitChat on July 2, 2014 at 4 p.m. E.D.T.