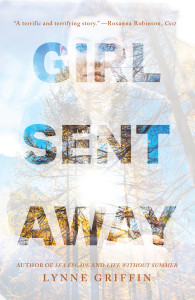 In Lynne Griffin's new novel, Girl Sent Away, she takes on a topic that's rarely discussed but which richly deserves our attention: the fear-based teenage boot camps that serve as a dark undercurrent to our domestic culture. In this book, Griffin explores that somber, frightening world, through the twinned journeys of a troubled teenage girl and her grieving father. This is a terrific and terrifying story, and one that should be told. Brava to Griffin for having the courage to do so. –Roxana Robinson, author of Cost and Sparta
Girl Sent Away is an emotional page turner that explores the ways in which grief can tear families apart and love can triumph. –Ann Hood, author of The Knitting Circle
From Kirkus Reviews:
With its young heroine and sensitive examination of adolescents in crisis, Girl Sent Away would do well to also find a teen audience.
This compelling novel takes us inside the lives of a girl and her father who fall prey to a horrific reality: a system of institutions that claims to treat trauma, but actually creates more of it. A must-read, especially for anyone whose life is touched by troubled teens. –Maia Szalavitz, author of Help at Any Cost: How the Troubled Teen Industry Cons Parents and Hurts Kids
Also coming in November is LET'S TALK ABOUT IT: ADOLESCENT MENTAL HEALTH, a companion guide for reading GIRL SENT AWAY. Collaborate with Lynne to engage your community of parents, teachers, and teens in this important dialogue about preventive mental health. To invite Lynne to speak at your school, organization, or book club, email events@LynneGriffin.com.