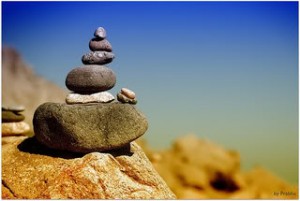 You wait for your characters to reveal the heart of their stories to you. You read and reread your novel, begging it to sing so you'll know you're done. You wait for an agent to read your manuscript, then an editor to make an offer. Rejection slips come in the forms of radio silence and impersonal no-thank-yous; and while some are dotted with blatant encouragement—just as a kiss is still a kiss, a no is still a no.
The job description for writer should include a line in bold letters: Impatient pessimists need not apply.
Certainly leading up to the publication of my third novel, I've got my share of gloomy moments and faithless days, otherwise known as pre-pub jitters, but I've got a much stronger handle on how to manage expectations this time around. The trick for me, when it comes to persevering in the face of the obstacles to successful publishing today, is to sprinkle my hopes with a dash of reality and a pinch of practicality.
Though it may seem counterintuitive, the first step is to dream big. If you don't believe—to your core—that great things are just around the corner, why would you keep on keeping on? Who will have faith in you, if you don't have faith in yourself?
Sadly, there will be times amidst all the waiting, to say nothing of all the rejection and opportunities just beyond your grasp, when self-doubt will take up residence. Only your faithful inner voice spurring you on will be what sustains you. The emotional work involved in maintaining a healthy outlook involves the daily exercise of pulling negative self-talk from the brain like lint from a favorite sweater. I can't do it must be replaced with, yes, I can. This is impossible must become all things are possible. Being positive is an essential ingredient to living a literary life. The bridge from writer to author to career novelist is paved with perseverance born of hope.
What some see as platitudes, I hear as mantras. Dream big. Believe. Be bold. Still, there's a downside to trusting your abilities, to reveling in your accomplishments too readily. If you dream big and hope large, you leave yourself in the path of disappointment. Let's say you're new at this writing gig, and you envision yourself situated on a comfy couch at Harpo Studios holding your latest hardcover. When Oprah's OWN doesn't call—and I'm telling you, you're more likely to be struck by lightning—you'll be crushed. Worse, you might consider an appearance on WLS talk radio a letdown, when in fact who wouldn't love to shout out, Good morning Chicago?
The impressionist painter Henry Matisse said, "What I dream of is an art of balance." If this is the key–and I believe it is–then managing expectations means holding on to enough positivity so you can persevere, energized by all the possibilities, while still being realistic enough to protect your heart, so you can get up another day to face the blank page, the bad review, your lousy Amazon ranking, or someone telling you at your own reading that she only reads happy books.
The secret salve to managing expectations is a bucket of hope mixed with healthy doses of resignation. Want a reality check? Whether you're working on your first novel or third memoir, some aspects of the journey stay the same.
Here's what to expect when you're expecting a writing career:
• Lots of homework. You know what they say about luck; it's what happens when preparation meets opportunity. Learn about the industry. Join online communities. Read success stories. Build your career on a solid foundation of knowledge and collegial relationships.
• Regular mental gymnastics. I'm fortunate to have a fantastic agent and a marvelous editor, still the decisions about my career ultimately rest with me. Should I hold on to foreign rights? Accept a two book deal? Hire an independent publicist? These and other risk vs. benefit decisions can be informed by others, but I must process the options and decide what's right for me.
• Loads of advice. Other writers and industry insiders will insist you blog, tweet, and create a Facebook fan page; join Library Thing, Red Room, Good Reads…good grief! You should do these things only if you want to. And only if they fit your personality. Choose the tools to raise your profile that you know you'll stick with. If you try to do it all but then never engage with readers or update your feed, it's about as helpful as shouting out your bedroom window—buy my book. The way to get mileage out of your efforts is to pick what suits you, then be consistent, and be sure to have fun while you're at it.
• Cycles of writing followed by phases of publicity. No one will be as invested as you are in bringing your work to readers. Yet to build momentum, you need to keep producing. Balance time to write with time to promote by creating routines and keeping to a schedule. I've found it works best to write first, and then reward myself with time on social networks.
• Perpetual waiting. Even after a grueling revision, another will be required. First novel or third, agents and editors take time to read, suggest edits, or make offers. Get used to delays and lag times. When action is required, things happen fast. The rest of the time it's limbo. Though easier said than done, resist the urge to check and recheck email or waste time playing online scrabble. In those in between times, my best advice is to keep your head down and write your next novel.