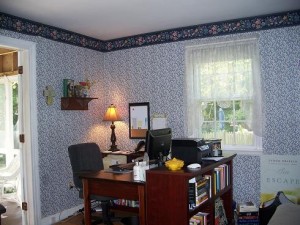 This room without a door—through which you have to pass to get to our screened-in porch—is where I spend more hours than I care to count writing my novels. It's affectionately called Boston. When my children were little and interruptions unremitting, I sat them down one day and told them some parents drive to Boston to a job while others work from home, but both deserve the same respect. No more coming in to ask what's for dinner or will you get bunny food the next time you go shopping. These things can wait till my work is done. My son was the one with the bright idea that I should tell them I was going to "Boston" before I started writing so they'd know not to bother me except for emergencies. Though what constitutes an urgent request when you're in elementary school is a subject for another blog.
There's a comfy couch for early morning reading. A number of bookcases line the walls housing my favorite novels, books on craft, and resources for my works-in-progress. Behind me is a shelf of keepsakes. A copy of Carolyn See's Making a Literary Life sweetly given to me by my husband when I began to dream of writing a novel and my childhood copy of Black Beauty, a book that taught me about the power of good storytelling. A miniature Eiffel Tower sits there as a reminder of another dream—someday Paris. Pictures of my children, from the time of the office's naming, remind me that building a career is a journey not a race. Both my son and daughter are young adults now and for the most part living away from home. Funny how all these years later, I wouldn't mind a few interruptions, a welcome pause from the hours I spend in conversation with only imaginary people.
Lynne Griffin is the author of the novels Sea Escape, which is now available in paperback, and Life Without Summer. Her third novel The Last Resort will be published by Simon & Schuster spring 2012. You can find her online at here and on Twitter at @Lynne_Griffin.